Hi Everyone,
By the time you read this, I'll be either getting ready to go to the airport or possibly flying over your home.  I wanted to let you know that I have no clue on how my Internet connection will be in Europe, but I know me, I'll try to get on whenever I can.  Don't think I neglected you if I don't comment on your comments or answer any questions you may have.  I promise I will read them all when I get home or possibly sneak away to check while I'm at work.  I wanted to tell you I lined up some fabulous bloggers with the most delectable recipes, plus and inspirational story.  I also snuck in a few of my own recipes and there may even be a giveaway next week, so you'll just have to check!  😉
Today's recipe is part of the Mom's Crazy Cooking Challenge.  We had to make fried chicken.  Normally we have to pick fried chicken from another blog, but this month Tina let us create out own recipe.  So with all that I decided to make Buffalo Chicken Fingers!  Oh baby!!
These chicken fingers were fabulous!  Crispy, slightly hot and healthy for chicken fingers.  Yes, I said healthy!  I decided to bake them instead of frying them.  I don't like cooking with oil, and I don't need any additional fat, I eat enough of that with the trillion spoonfuls of peanut butter I eat!
I served my chicken fingers with my yogurt ranch dressing which is a perfect complement to the chicken.  My Husband loved this dish!  Chicken fingers is one of those foods I love but I just never make them enough.  The last time I made fingers was for the Super Bowl, remember my breaded chicken fingers?  They were a pretty popular post for a month or so.  This recipe is a take on them, but with hot sauce!  Yum!

I soaked the chicken in milk and hot sauce for about 6 hours.  Then I dipped them in a mixture of Franks Hot Sauce and butter.  For the breading I used Organic Corn Flakes and spices.  I placed them on an aluminum foiled baking sheet with a rack over the top.  Baked them in a 400 degree oven for 30 minutes and they turned out perfect!!
Buffalo Chicken Fingers
A crispy, spicy healthy version of traditional chicken fingers made with hot sauce and breaded with corn flakes and than baked.
Ingredients
1½ lbs. of boneless chicken
½ cup milk
1 tbsp. hot sauce
¼ cup hot sauce
1 tbsp. butter,melted (I used brumble and brown)
2 Cup Corn Flakes, crushed or Panko Bread Crumbs
2 tsp. paprika
1 tsp. dried thyme
1 tsp. garlic powder
½ tsp. onion powder
Olive oil or canola oil cooking spray
Instructions
Whisk milk and hot sauce in a shallow glass dish until well blended. Add chicken and turn to coat. Cover and marinate in the refrigerator for at least 30 minutes or for up to 8 hours.
Preheat oven to 400 degrees F. Line a baking sheet with foil. Set a wire rack on the baking sheet and coat it with cooking spray.
In a shallow bowl add ¼ cup hot sauce and butter, mix until combined.
Make your bread crumb mixture, by combining Corn Flakes, paprika, dried thyme, onion powder and garlic powder
Take your chicken out of the milk mixture; dip into hot sauce mixture and then dredge in breadcrumb mixture.
Place chicken on rack and bake for 30-35 minutes, until chicken is fully cooked and crispy.
Notes
Calories per 4oz: 153, Fat: 2.2, Cholesterol: 56.7, Sodium: 550, Potassium: 276.8, Carbs: 8.3, Fiber: .01, Sugar: 1.4, Protein: 23.4
I want to thank Tina from Mom's Crazy Cooking for hosting this wonderful hop.  I had fun making these fingers, but more fun eating them!
Have a wonderful weekend!!
Toodles,
Jennifer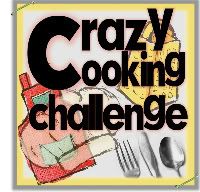 Powered by Linky Tools
Click here to enter your link and view this Linky Tools list…