Eggnog Banana Bread with Boozy Rum Glaze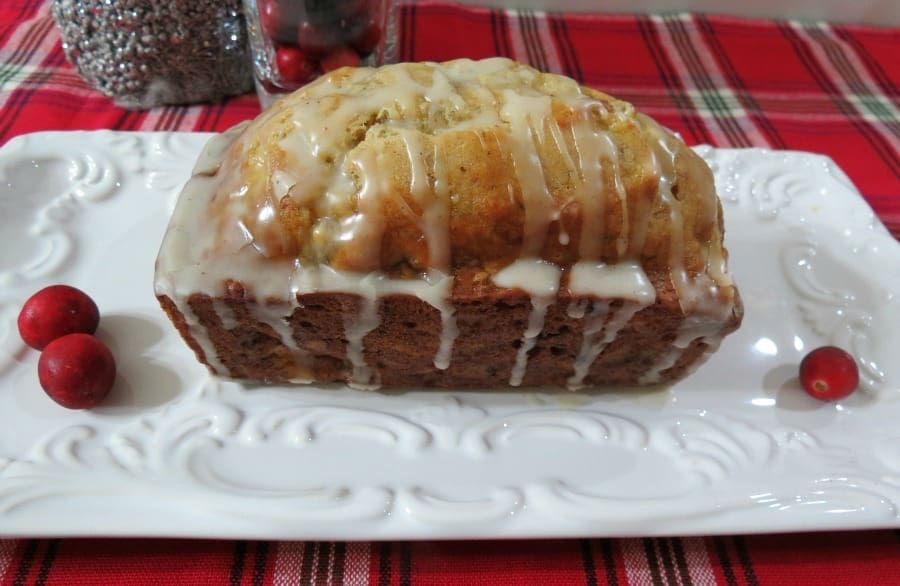 1 Cup All Purpose flour
¾ whole wheat pastry flour
1 tsp. baking soda
½ tsp. salt
1 Cup banana,mashed
3 egg whites
½ Cup sugar
½ Cup eggnog, light
¼ cup greek yogurt, plain
1 tbsp. canola oil
1 tbsp. rum or ¼ tsp. rum extract
¼ tsp. nutmeg
**Glaze**
½ cup powdered sugar
1 tbsp. egg nog
¼ tsp. nutmeg
1 tsp. rum
Preheat oven to 350F
Spray 1 loaf pan or three mini loaf pans with cooking spray; set aside
In a large bowl add flours, baking soda, and salt; mix and set aside.
In a medium bowl, add banana, egg whites and sugar, mix together until incorporated. Add eggnog, greek yogurt and canola oil; mix until combined. Stir in rum and nutmeg; mix until combined.
Make a well in the center of the flour mixture and slowly add the banana mixture and fold together until combined. Do not over mix.
Evenly divide batter into prepared mini loaf pans or pour into one large loaf pan.
Bake mini loafs for 30 - 35 minutes, bake large loaf for 50 - 60 minutes. Insert a toothpick into center of bread, comes out clean, bread is done.
Let the bread cool for 5 minutes, then take loaves out of pan and let them cool on a cooling rack.
For the Glaze: In a small bowl add powdered sugar, eggnog, nutmeg and rum. Mix until combined and evenly pour over cooled bread.
Recipe by
PB + P Design
at https://www.peanutbutterandpeppers.com/2012/11/29/eggnog-banana-bread-with-boozy-rum-glaze/