Peanut Butter Cookie Granola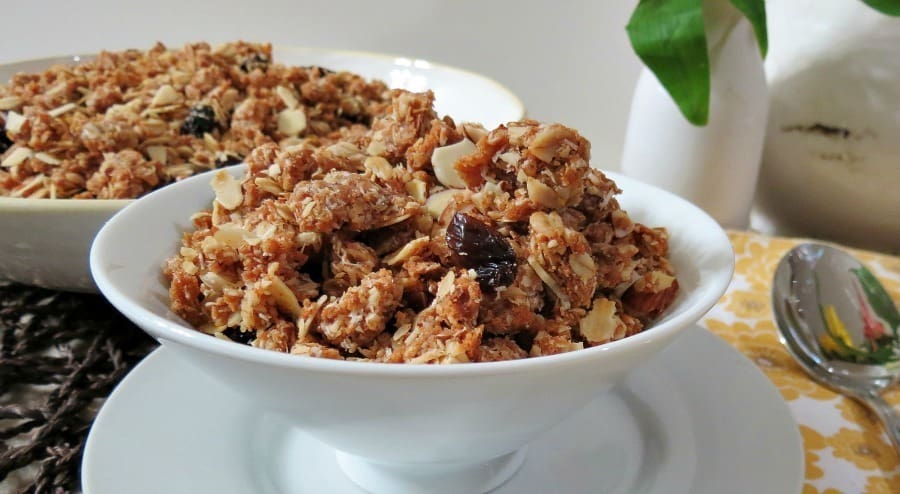 1 cup natural peanut butter
1 cup Presweet Tagatose or Sugar
1 tbsp. vanilla extract
2 tsp. cinnamon, ground
¼ tsp. salt
1 egg
2 cups rolled oats
1 cup slivered almonds
1 cup unsweetened coconut
½ cup raisins
Preheat oven to 275F Degrees
Line a baking sheet with parchment paper; set a side
In a large bowl, using a wooden spoon, beat together the peanut butter, Presweet Tagatose or Sugar until creamy. Beat in salt, vanilla and cinnamon. Beat in the egg. Mix until well combined.
Pour the oats, almonds and coconut into bowl with Peanut Butter mixture and with your hands massage it all together. Spread on to prepared baking sheet and bake for 10 minutes, flip the granola. Place bake in the oven and bake for 10 minutes, add the raisins, flip again. Place back in oven and bake for an additional 8 minutes or until lightly golden. Remove and let it completely cool. Store in an airtight container, or you can place in a freezer bag and freeze.
Calories per half cup: 315.4, Fat: 18.1, Cholesterol: 15, Sodium: 36.8, Potassium: 101, Carbs: 38.6, Fiber: 5.1, Sugar: 5.4, Protein: 11.1
Recipe by
Peanut Butter and Peppers
at https://www.peanutbutterandpeppers.com/2012/11/24/peanut-butter-cookie-granola/