Alton Brown's Angel Food Cake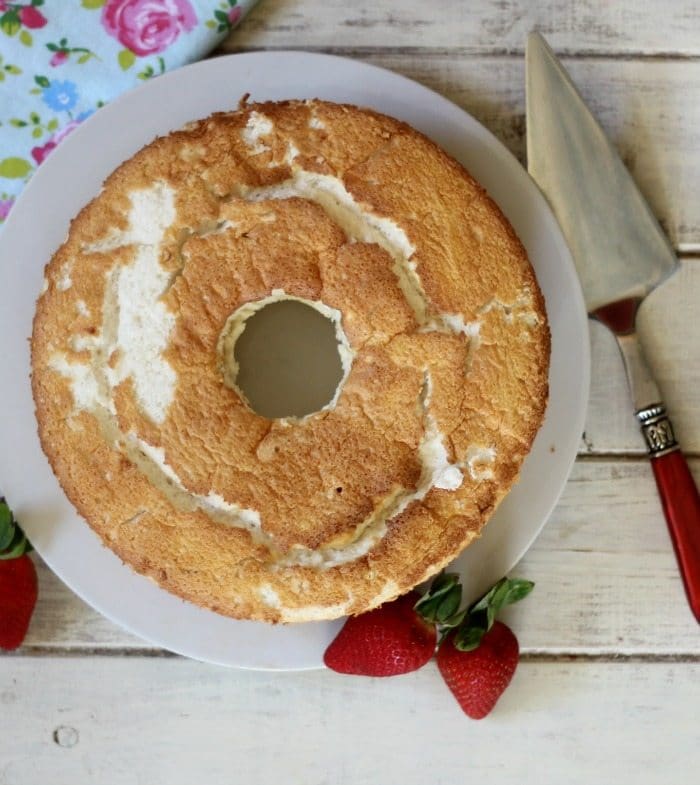 Author:
Alton Brown (Made by Me)
1¾ cups Bakers Sugar (fine sugar)
¼ tsp. salt
1 cup cake flour, sifted
12 egg whites (the closer to room temperature the better)
⅓ cup warm water
1 tsp. vanilla extract
1½ tsp. cream of tartar
Preheat oven to 350 degrees
In a bowl, add half the sugar, salt and cake flour; set aside.
In a large bowl, use whisk to thoroughly combine egg whites, water, extract, and cream of tartar. The batter will be slightly foamy.
After 2 minutes, switch to a hand mixer. Slowly sift the reserved sugar, beating continuously at medium speed. Once you have achieved medium peaks (about 7 minutes).
Sift enough of the flour mixture in to dust the top of the foam. Using a spatula fold in gently. Continue until all of the flour mixture is incorporated.
Carefully spoon mixture into an ungreased tube pan.
Bake for 35 minutes before checking for doneness with a wooden skewer. The skewer should come out dry and the top of the cake should be cracked.
Cool the cake upside down on cooling rack for at least an hour before removing from pan. Use a butter knife around the edges of the pan to removed the cake.
Serve with berries and whip cream if desired.
Separate each egg in an individual cup, to make sure you do not get egg yolk or shells in with the rest of the eggs.
Serving size:
10th of cake
Calories:
194
Fat:
0
Carbohydrates:
44
Sugar:
35
Sodium:
124
Protein:
5
Cholesterol:
0
Recipe by
PB + P Design
at https://www.peanutbutterandpeppers.com/2015/06/10/alton-browns-angel-food-cake/