Sweet & Spicy Chinese Chicken Pizza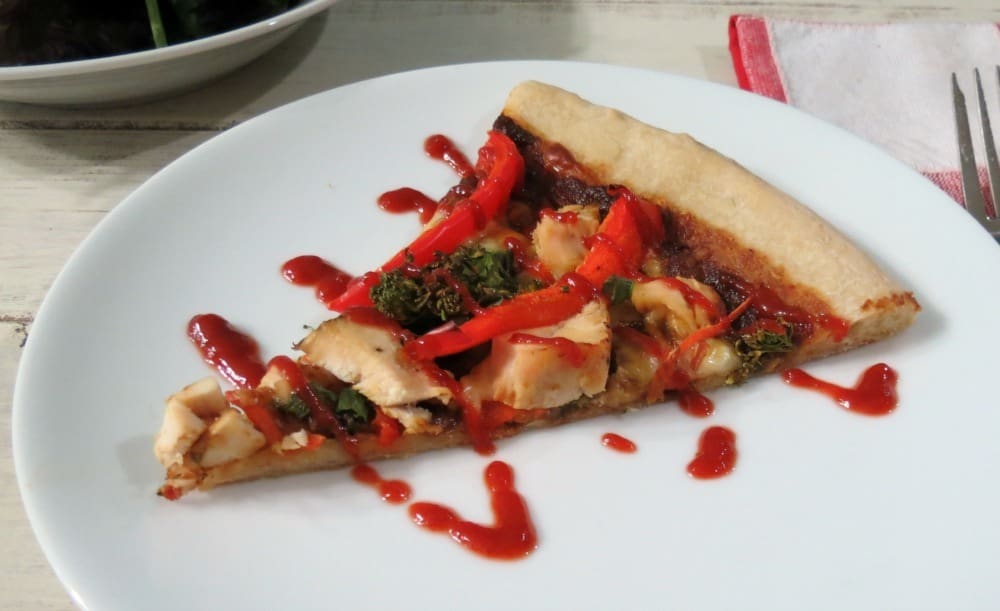 1 lbs. pizza dough, store bought or homemade
⅓ cup Musselmans Apple Butter
1 tbsp. chili paste
1 tsp. soy sauce
1 tsp. garlic, minced
½ cup (2 oz.)mozzarella cheese
3 oz chicken, cooked, diced small
¼ large sweet red bell pepper, sliced thin
¼ cup shredded carrot
⅓ cup broccoli florets, chopped small
¼ cup scallions, diced small
Preheat oven to 425 degrees
Lightly spray pizza stone with cooking spray; set aside.
In a small bowl, add Musselmans Apple Butter, chili paste, soy sauce and garlic. Mix until combined; set aside.
Shape pizza into a round shape on top of pizza stone. Spread Apple Butter sauce over the dough. Top the sauce with cheese, chicken, red bell pepper, carrots, broccoli and scallions.
Place pizza in oven and bake for 10 - 12 minutes, until pizza is lightly golden on the bottom. Let cool for a few minutes, cut into 8 slices. Top with Sriracha Hot Sauce, if desired.
Recipe by
PB + P Design
at https://www.peanutbutterandpeppers.com/2014/01/31/sweet-spicy-chinese-chicken-pizza-giveaway/