Honey and Cinnamon Glazed Sweet Potatoes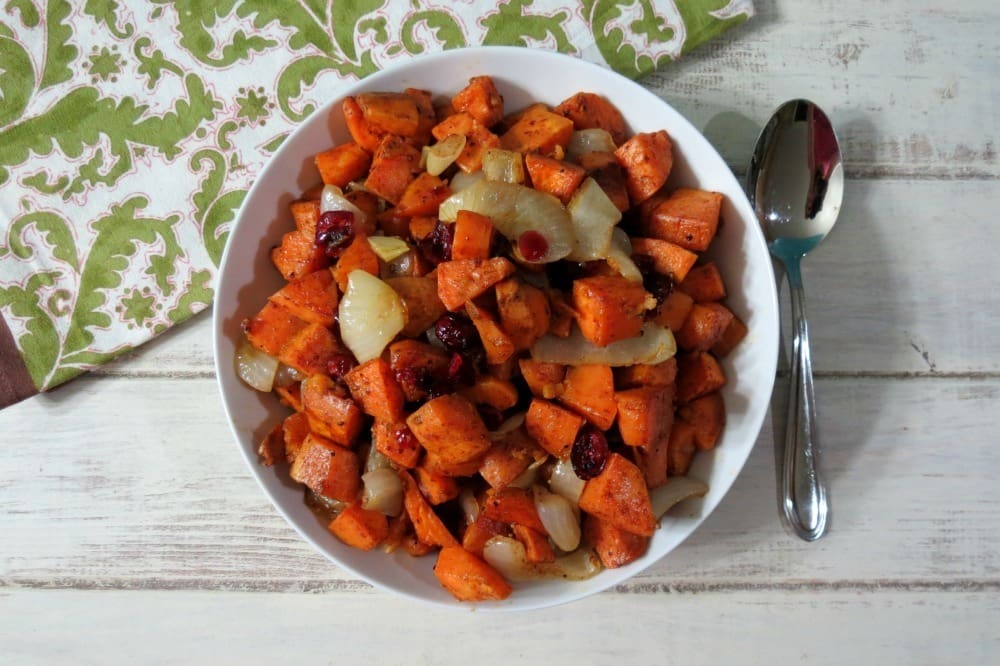 4 (813 grams) large sweet potatoes, peeled, sliced into ¼" chunks
1 (212 grams)large onion, sliced about ¼" thick
2 tbsp. olive oil
1 tbsp. honey
½ tsp. cinnamon
salt & pepper to taste
¼ cub dried cranberries
Topping:
1 tbsp. butter or margarine (I used Earth Balance)
½ tsp. cinnamon
Preheat oven to 400 degrees
Line a baking sheet with aluminium foil and spray with cooking spray.
In a bowl, add potatoes and onions; set aside.
In a small bowl, whisk together, olive oil, honey and cinnamon. Pour over potato and onion mixture. Mix together well, I used my hands.
Spread potato mixture onto prepared on baking sheet and season with salt and pepper and you want you can also give a small sprinkle of cinnamon; place in oven for 30 minutes. Half way through flip the potatoes and cook until fork tender.
In a microwave safe bowl, add 1 tablespoon of butter and cinnamon, place in microwave for 15 seconds until melted.
Pour potatoes in a bowl and stir in cranberries and top with melted butter mixture. Serve immediately.
Recipe by
PB + P Design
at https://www.peanutbutterandpeppers.com/2013/11/24/honey-and-cinnamon-glazed-sweet-potatoes-sundaysupper/