Fall Harvest Butternut Squash Chicken Salad with Maple Dressing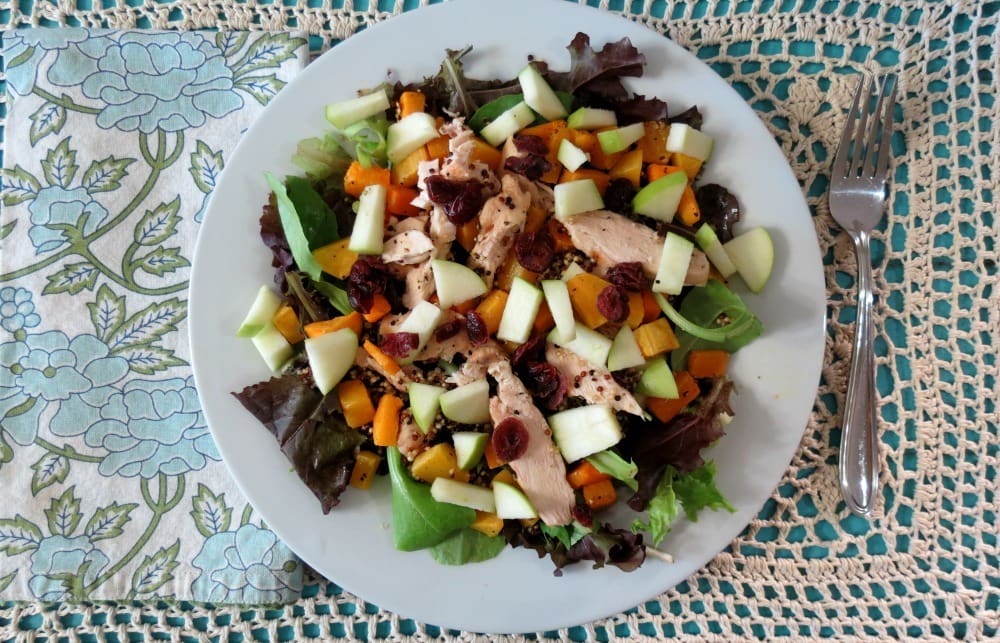 2 cups butternut squash, cut into small bite size pieces
Cooking Spray
¼ cup quinoa, rinsed, drained
½ cup water
1 tbsp. olive oil
6 oz chicken, skinless boneless
Sprinkle of salt and pepper
4 cups, mixed greens
½ cup apple, diced
2 tbsp. dried cranberries
For dressing:
¼ cup balsamic vinegar
2 tbsp. water
1 tsp. dijon mustard
4 tsp. maple syrup
Heat oven to 400 degrees.
Line a baking sheet with parchment paper. Add butternut squash and spray with cooking spray, sprinkle with salt and pepper, if desired. Flip squash, spray with additional cooking spray. Bake in oven for 10 minutes, flip and bake for another 10 minutes or until squash is fork tender; set aside. Note: The small the pieces of squash is the quicker it cooks
Meanwhile, when squash is cooking, heat a frying pan with olive oil, lightly season chicken with salt and pepper. Add chicken to skillet and cook over medium heat for 5 minutes on each side or until chicken is no longer pink. Set chicken aside to cool. Once cool enough to handle, slice chicken in thin slices.
Meanwhile, In a microwave safe dish, add ½ cup water and quinoa, cover and cook for 2 minutes, then remove from heat and stir. Heat again for an additional 4 minutes. Stir and let stand for one minute.
On two plates, divide the mixed greens, chicken, apple, butternut squash, quinoa, dried cranberries and maple dressing
To make dressing: in a bowl add all of the dressing ingredients and whisk together. Pour over top of salad.
Calories per salad: 306, Fat: 2.9, Cholesterol: 48.7, Sodium: 85, Potassium: 466, Carbs: 49, Fiber: 6, Sugar: 20, Protein: 24

This salad tastes good warm or cold! :)
Recipe by
Peanut Butter and Peppers
at http://www.peanutbutterandpeppers.com/2013/09/18/butternut-squash-fall-chicken-salad-with-maple-dressing/