Peanut Butter and Honey Oat Bars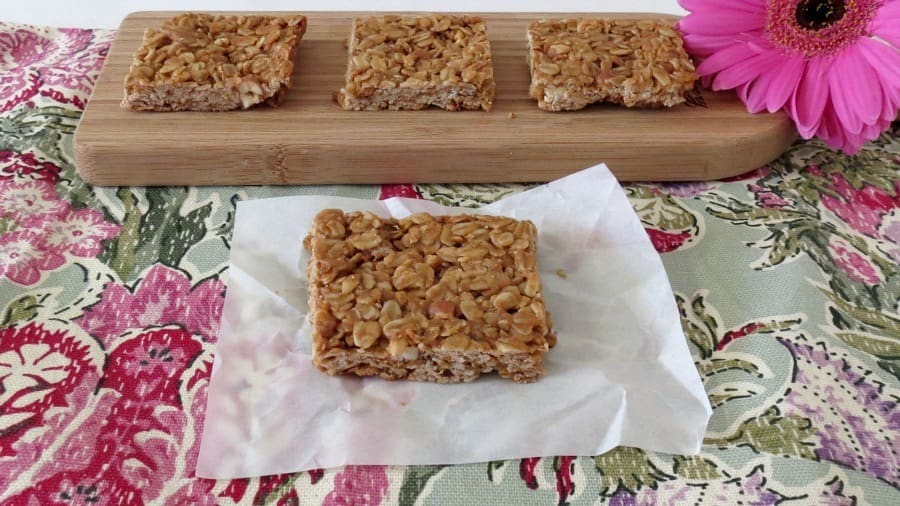 ½ cup honey
1 tbsp coconut oil
⅓ cup peanut butter
½ tsp vanilla extract
¼ tsp. cinnamon, ground
2 cups oats (I used Trader Joe's Gluten Free Oats)
½ cup chopped honey roasted peanuts
Preheat oven to 300 F
Line an 8 x 8 pan with parchment paper, making sure the parchment paper hangs over the sides.
In a microwave safe bowl, add honey, coconut oil and peanut butter. Microwave for 30 seconds, stir until mixture gets runny and peanut butter completely melted in. You may have to heat for another 20 seconds or so. Mix in vanilla extract and cinnamon.
Add oats and peanuts, mix until everything is combined and the mixture is completely coated with honey and peanut butter mixture.
Pour mixture into prepared pan and press down with a back of a spoon; bake in the oven for 20 -25 minutes until lightly brown.
Once you take the bars out of the oven, press down with the back of a spoon to insure the oats are pressed firmly together. Let the oat bars cool slightly and carefully take out bars by grabbing onto the parchment paper and cut into 16 slices. Let bars cool completely and harden at room temperature.
Store bars in an air tight container in the refrigerator.
Calories per bar: 157.2, Fat: 8.1, Cholesterol: 0, Sodium: 31, Potassium: 38, Carbs: 18.8, Fiber: 2, Sugar: 10.4, Protein: 3.9
Recipe by
Peanut Butter and Peppers
at http://www.peanutbutterandpeppers.com/2013/03/08/peanut-butter-and-honey-oat-bars/